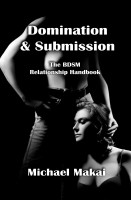 Domination & Submission: The BDSM Relationship Handbook
by

Michael Makai
(5.00 from 2 reviews)
The definitive handbook on Domination and Submission (D/s) relationships and the BDSM lifestyle. A must-read for anyone considering or curious about non-traditional relationships within a fetish culture context. Funny, insightful, educational, and inspiring. You'll love Michael Makai's irreverent and humorous treatment of this subject as he gives you the benefit of his 37 years of BDSM experience!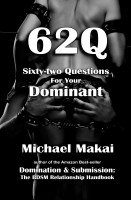 62Q: Sixty-two Questions For Your Dominant
by

Michael Makai
(5.00 from 1 review)
Your prospective Dominant is applying for a job. As far as you should be concerned, that job ought to be treated as the most important job in the world. Choosing the right person can mean a lifetime fulfilled and happy. Choosing the wrong Dom can result in a relationship train wreck. "62Q: Sixty-two Questions for Your Dominant" gives you the tools you will need to find the right Dominant for you.