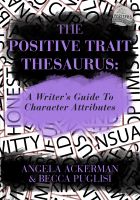 The Positive Trait Thesaurus: A Writer's Guide to Character Expression
The Positive Trait Thesaurus is brimming with ideas to help authors develop one-of-a-kind, dynamic characters that readers will love. Extensively indexed, it contains a large selection of positive attributes to choose from when building a personality profile. With entries written in a user-friendly list format, this brainstorming resource is perfect for any character creation project.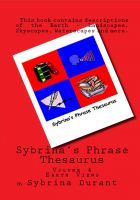 Sybrina's Phrase Thesaurus - Volume 4 - Earth Views
Sybrina's Phrase Thesaurus - Volume 4 - EARTH VIEWS contains descriptions of Landscapes (plains, hills, mountains, valleys), Waterscapes (waterfalls, streams, rivers, ponds) and Skyscapes (morning, sunny, cloudy, rain, space, stars) and much more. There is also a section for COLORS with descriptions for all the colors in the rainbow plus other things like metals, shiny, light, dark, day and night.