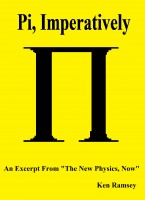 Pi, Imperatively
by

Ken Ramsey
(4.50 from 2 reviews)
Pi being fundamental to the structure of the universe, requires a complete understanding. Pi is known to millions of decimal places, but there are many aspects of pi that are not fully understood. The significance of pi to the universe is explored, some questions are offered and some avenues of exploration are presented.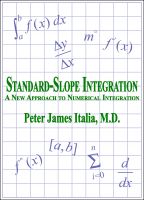 Standard-Slope Integration: A New Approach to Numerical Integration
by

Peter James Italia, MD
The integral (or antiderivative) has long been used to determine the area under a curve, but finding the antiderivative can be a challenge. Other methods of integration can be cumbersome and give only a crude estimate of the actual area. Standard-slope integration is a fast, easy, and accurate method of numerical integration with results that are on par with those of classical integration methods.