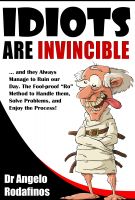 Idiots are invincible: The fool-proof 'Ro' method to deal with stress, solve problems, and enjoy the process!
(5.00 from 2 reviews)
Who are the idiots? The others, of course! Managers, colleagues, teachers, drivers, friends, spouses, mothers-in-law or anyone who doesn't behave 'properly,' that is, the way ... we would like them to! Join in the adventures of Don Stressote, a modern-day Don Quixote de la Mancha and watch him deal effectively with other idiots, as well as with the most difficult person among all ... himself!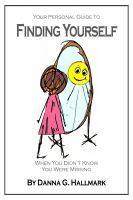 Your Personal Guide To Finding Yourself When You Didn't Know You were Missing
Finding Yourself is a product of 35 years experience & development in the international arenas of Transactional Analysis, medicine, education and psychology. Author Danna G. Hallmark offers every person the means to discover what they truly want in life and separate that from any personal baggage. The book contains charts & self-grading questionnaire to assist the reader in understanding.