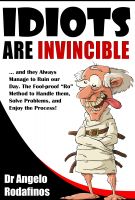 Idiots are invincible: The fool-proof 'Ro' method to deal with stress, solve problems, and enjoy the process!
(5.00 from 2 reviews)
Who are the idiots? The others, of course! Managers, colleagues, teachers, drivers, friends, spouses, mothers-in-law or anyone who doesn't behave 'properly,' that is, the way ... we would like them to! Join in the adventures of Don Stressote, a modern-day Don Quixote de la Mancha and watch him deal effectively with other idiots, as well as with the most difficult person among all ... himself!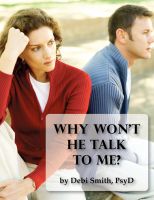 Why Won't He Talk to Me? The Simple Truth About Men and Intimate Communication
(5.00 from 1 review)
Does the man you love withdraw and refuse to face issues? have problems being open about things? often misunderstand what you're saying? Many women believe men are insensitive jerks, don't have feelings, are only interested in one thing, or just don't get it. Even if you've tried everything you can think of, there's still hope! So don't give up until you've practiced the principles in this book!