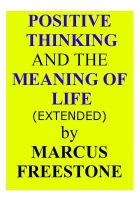 Positive Thinking and The Meaning of Life (Extended)
A brief and concise exploration of psychology, philosophy and the workings of the human brain. We explore consciousness, bad faith, decision making and many aspects of thinking. The book ends by answering the question of the meaning of life in two paragraphs. For anyone who's still struggling to answer all the 'big questions', find out most of them don't even need to be asked in the 1st place.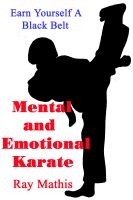 Mental and Emotional Karate
No one can hurt our feelings. That's semantic and scientific nonsense. The truth is that it's what we choose to think about others and what they say or do that really determines how we feel, be it hurt or anything else. I will teach you how to use the power of choice to earn the equivalent of a black belt in Mental and Emotional Karate and stop being a victim of others comments or actions.