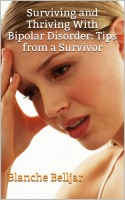 Surviving and Thriving with Bipolar Disorder: Tips from a Survivor
Written with self-deprecating humor, my self-help book describes how I've managed to survive and thrive with having bipolar disorder for over 25 years. My book offers tips on how to pick a good psychiatrist, how to handle anxiety, how to help a loved one who's going through a manic episode, and many other tips. It also explores the positive sides to being bipolar--And yes, there are some.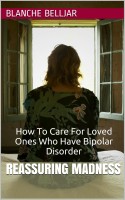 Reassuring Madness: How To Care for Loved Ones Who Have Bipolar Disorder
This book is the sometimes funny/sometimes heartbreaking story of one families' battle with bipolar disorder. It is told from the point of view of a sister and daughter who has bipolar disorder also, but has been fortunate enough to have had thirty years of excellent psychiatric care, so that she's able to share practical tips, survival skills, & coping mechanisms she's learned to help others.