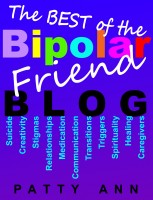 The Best of the Bipolar Friend BLOG ~ A Comprehensive Bipolar Guidebook from A to Z
Suicide, symptoms, relationships, caregivers, communication, medications, healing tips, creativity, spirituality, and finding peace are all vital concerns in a bipolar person's life. This book is a must read for anyone new to- or well acquainted with bipolar. For caregivers, relatives, and friends associated with bipolar kin, this guidebook provides insights and coping strategies that really help.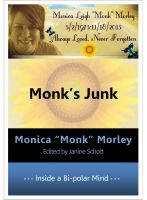 Monk's Junk: Inside a Bi-polar Mind
Monica "Monk" Morley was an amazing woman with bipolar disorder (Type 1/ultradian cycling), PTSD, Borderline Personality Disorder, depressive psychosis delusional psychosis. Her blog, Monk's Junk: Inside a Bi-polar Mind, was a place to express what was going through her mind on any given day or during episodes. Read her blog and testimonials from her support group who remember their loving friend.