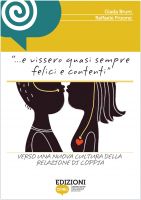 E Vissero Quasi Sempre Felici e Contenti. Verso una nuova cultura della relazione di coppia
Analizzando i motivi socioculturali e psicologici delle difficoltà e delle paure che oggi si incontrano nello stare in una relazione,gli autori ci guidano in un percorso alla scoperta di una nuova cultura della coppia,basandosi anche sui princìpi del loro lavoro con le coppie come psicoterapeuti. Un libro per tutti. Apre interessanti spunti e riflessioni per un nuovo modo di vivere la relazione.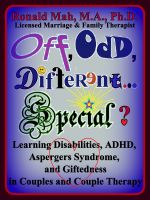 Off, Odd, Different… Special? Learning Disabilities, ADHD, Aspergers Syndrome, and Giftedness in Couples and Couple Therapy
Someone off, odd, different, or special is a clinical clue to issues causing dysfunction in the couple. Disproportionate time, attention, & energy required stresses everyone. Learning disabilities (LD), Attention Deficit Hyperactivity Disorder (ADHD), Aspergers Syndrome (AS), & giftedness are among 13 reasons one may miss social cues, thus creating the sense of misfit that impacts relationships.