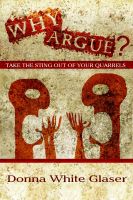 Why Argue? Take The Sting Out Of Your Quarrels
Couples argue. Emotional wounds from past disagreements, misunderstandings, below-the-belt tactics, and on-going, unresolved issues—all combine to create a depressingly repetitious why-are-we-fighting-about-this-again style of argument. This 16-page booklet suggests simple changes to increase understanding and improve communications that can lead to real resolutions for you and your partner.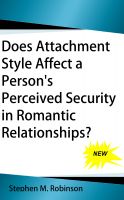 Does Attachment Style Affect a Person's Perceived Security in Romantic Relationships?
This book is an academic look into whether the way we are brought up by our mothers (or primary caregiver) can affect the way we are in our adult romantic relationships. Abstract: Research suggests that attachment styles can predict many aspects of a person's personality, especially when it comes to relationships. After developing from the three attachment styles suggested by Ainsworth et al (19