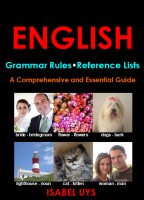 ENGLISH: Grammar Rules and Reference Lists
Not all information about grammar and language needed, is found in a dictionary. This book provides comprehensive grammar rules and useful reference lists in a single volume. The book is an excellent resource for learners and students to prepare for exams or for just improving their language skills. It is an extremely useful book for learners, students, teachers and a must for every household.
300 Days of Better Writing
300 strategies for improving your writing. Strategies are short and to the point (150-250 words each), with explanations, instructions, and samples for each strategy. Learn from them one day at a time or find the strategies you need. Midwest Book Review calls 300 Days of Better Writing "a choice pick."