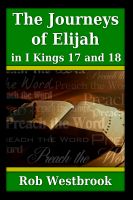 The Journeys of Elijah in 1 Kings 17 and 18
Take an in-depth look at the towns and geography where the prophet Elijah once roamed. Become aquainted with the lands of King Ahab and Jezebel. The Journeys of Elijah in I Kings 17 and 18 delve into the surroundings of Elijah, both his hometown, and the hiding spots where he later fled to escape Jezebel.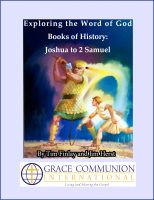 Exploring the Word of God: Books of History: Joshua to 2 Samuel
This is a lay-level introduction to the books of Joshua, Judges, Ruth, 1& 2 Samuel. In each book, we look at the way the book is organized, its main themes, and lessons we learn from it today. There are character sketches of Joshua, Deborah, Gideon, Jephthah, Samson, Samuel, Saul, David and Bathsheba. By Tim Finlay and Jim Herst.