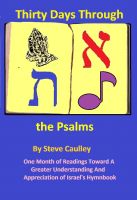 Thirty Days Through the Psalms
(5.00 from 1 review)
Thirty Days Through the Psalms is a nontechnical study in which the 150 Psalms have been divided into 30 daily readings of similar length (about 82 verses per day). The grouping of these psalms is based on: their types ; their possible uses in Jewish worship; as well as traditional categories. Each day's reading includes a short introduction that gives background to the group of psalms being read.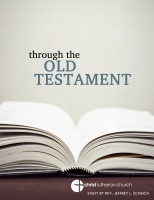 Through the Old Testament
"Through the Old Testament" will guide the reader through the whole Old Testament in one year, not reading from Genesis - Malachi but reading the books / portions of books in their historical order and context. It is designed to help the reader have daily devotions, reading five days per week and then gathering as a group for study / questions / answers over the material covered each week.