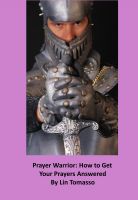 Prayer Warrior: How to Get Your Prayers Answered
(5.00 from 2 reviews)
A sometimes humorous look at why prayer often doesn't seem to work for us, Prayer Warrior is full of basic guidelines which have largely been overlooked. This book troubleshoots the how's and why's of prayer, and how to get it to function effectively. If your prayers seem to fall on deaf ears, try doing it the right way for a change. Prayer is a formula-make sure you're using the right one.
Contemplation: Only The Crucified are Truly Alive
A guidebook to help Christ-followers begin to explore a deeper, closer and fuller walk with God through the ancient practices of contemplation (waiting on God in silent, wordless prayer), lectio divina (scripture meditation), and other aspects of contemplative spirituality. The book also samples the tremendous contributions of contemplative writers from every century of the Christian faith.