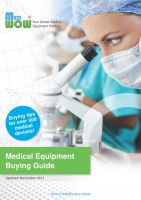 Medical Equipment Buying Guide
by

MedWOW
Written as a guideline for those involved in the purchasing of medical equipment, this guide provides buying tips, recommended questions to ask sellers and inspections forms for over 300 of the most common medical devices used in clinics, hospitals, labs, and other medical facilities. The result is a first-of-its-kind, comprehensive database, relevant to anyone dealing with medical devices.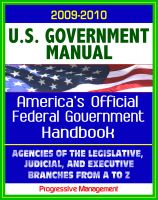 United States Government Manual: America's Official Government Handbook - Agencies of the Legislative, Judicial, and Executive Branches
by

Progressive Management
This ebook provides an excerpted reproduction of the U.S. Government Manual for 2009-2010. The official handbook of the Federal Government, it provides comprehensive information on agencies of the legislative, judicial, and executive branches. Descriptions include: purpose and role, a brief history, programs, Sources of Information section with contracts and grants, employment, publications, more.
Related Categories