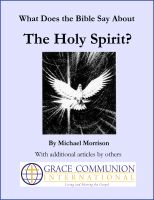 What Does the Bible Say About the Holy Spirit?
(1.00 from 1 review)
Many Christians find it easy to "picture" the Father and the Son. But the Holy Spirit is a puzzle, a question mark, not able to be put into a picture. What does the Bible say about the person and work of the Holy Spirit? In part 2, we consider the related question of speaking in tongues. Many Christians say that this is the sign of the Holy Spirit. Should all Christians seek this sign?