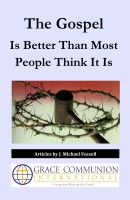 The Gospel Is Better Than Most People Think It Is
by

J. Michael Feazell
(1.00 from 1 review)
For many people, the gospel has strings attached: you can be saved by grace, but after that you have to work really hard. But the true gospel is that Christ died for all sins: past, present, and future. Does this mean that you can sin all you want? Yes. You always have, and always will. But God wants to save you from your sins, and he is really good at what he does - for you and for everyone else.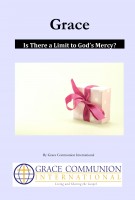 Grace: Is There a Limit to God's Mercy?
by

Grace Communion International
(1.00 from 1 review)
Does God put conditions on his grace - that we have to do something in order to be forgiven? If we have to do something, is it really a gift? If grace is given without conditions, does it mean that it's OK to sin? If God no longer counts our sins against us, then what's wrong with sin? Grace leads to a number of questions, and these articles attempt to clarify what grace is, and how we receive it.