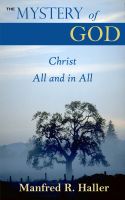 The Mystery of God: Christ All and in All
The foundation for everything is Jesus Christ Himself. Not a doctrine, not a belief system, not any particular church practice or creed. But simply, the Person of Christ Himself. I'm speaking of His life and His Spirit. To put it plainly, we just have not built upon that foundation. Instead we have built upon teachings about Christ, or personalities or man made structures.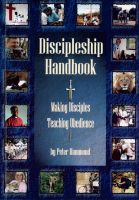 Discipleship Handbook - Making Disciples, Teaching Obedience
"Jesus said to go and make disciples. Too often we seem to have changed that to go and make converts. If every Christian took the time to read this comprehensive guide to discipleship, we would indeed have more disciples and less baby Christians who seem to remain as perpetual infants in the Lord." Jerry Newcombe, Senior Producer of The Coral Ridge Hour and author, Fort Lauderdale, USA.