My Craziest Adventures With God - Volume 1: The Spiritual Journal of a Former Atheist Paramedic
After losing my job, being divorced and being kicked out of my church, my entire world went up in flames. Then one night in a dream, God asked me to pray for my patients. Come along on my adventures as I confront my own skepticism and fear, and learn how to hear the voice of God and heal the sick. You'll be laughing one minute and crying the next as God's goodness and sense of humor are revealed.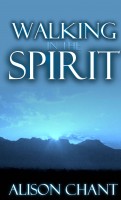 Walking In The Spirit
Walking in the Spirit, in the awareness, the blessing, and the counsel of God is the desire of every earnest Christian. It was no mistake that the desert loomed large in the lives of the prophets of God, who lived for his presence. Jesus also withdrew into the desert, endured the temptations of Satan and came out again empowered by God.