Encounters with an Inexplicable Man: Stories of Osho as Told by his People
Osho, then known as Bhagwan Shree Rajneesh, drew world attention by driving Rolls Royces, dressing in otherworldly robes and attracting vast numbers of red-clothed followers. Savita Brandt brings together stories of those who lived through extraordinary times close to this man whose views so challenged Indian and Western society and whose hundreds of books continue to sell in scores of languages.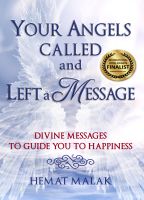 Your Angels Called and Left a Message
(5.00 from 1 review)
***Award Winning Finalist,'Poetry:Inspirational' category, 2013 International Book Awards*** How whole do you feel? It's true that you are a spirit having a physical experience. When that connection is strengthened you will be happier and your life will flow more smoothly. Allow these Divine words to lift and nourish you with their truth. Open to a page and read the message for your soul today...