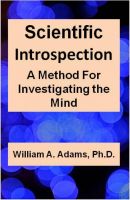 Scientific Introspection: A Method For Investigating the Mind
by

William A. Adams
Scientific Introspection calls for psychologists to use introspection to investigate the mind. What researchers do now is study the brain and behavior then try to guess what the mind must be like. But why guess? We have the ability to look directly into our minds. Scientific Introspection is an adjunct to traditional cognitive psychology, an investigative tool to discover how the mind works.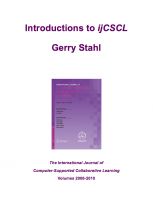 Introductions to ijCSCL
by

Gerry Stahl
The editorial introductions to the International Journal of Computer-Supported Collaborative Learning (ijCSCL) situate and highlight the unique perspectives and contributions of the individual papers. They also present reflections on topics of CSCL theory and methodology, providing a lively, stimulating introduction to the CSCL research field. ijCSCL is rated the #2 educational research journal.