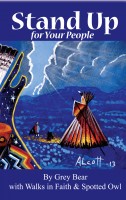 Stand Up For Your People
by

Grey Bear
(5.00 from 1 review)
Prison officials in the AZ DOC actively oppress Native American religious exercise. A high ranking religious administrator uses prison policy like a weapon against our people. With their policy, they desecrate our sweat lodge and religious items, force us to prove our race to practice, deny equal access to religious ceremonies, deny the use of ceremonial kinni-kinnick, etc.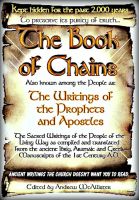 The Book of Chains
by

Andrew McAllister, Sr
(3.67 from 3 reviews)
Hidden from the world for the past 2,000 years this true and factual writing is the most important and sacred document known to man. It is not to be taken lightly or in jest and is for those who are sincere in their search for the absolute TRUTH. Not a religious teaching or part of any church or sect. Only if you hunger for truth should you read this book.