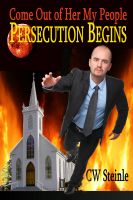 Come Out of Her My People: Persecution Begins
by

C.W. Steinle
It would take decades for a nation to gain the reputation of the Great Harlot listed in Revelation: trading capital-importer, living in luxury, top military force, unfaithful to God, unknown when Revelation was written (mystery), gathering place for the wicked, spreading her filth throughout the world. Persecution is the final sin which will expose the U.S. and the U.N. as the beast and her image.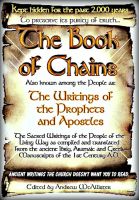 The Book of Chains
by

Andrew McAllister, Sr
(3.67 from 3 reviews)
Hidden from the world for the past 2,000 years this true and factual writing is the most important and sacred document known to man. It is not to be taken lightly or in jest and is for those who are sincere in their search for the absolute TRUTH. Not a religious teaching or part of any church or sect. Only if you hunger for truth should you read this book.