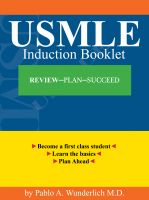 USMLE Induction Booklet
Hello, dear colleague. I'm pleased you're reading this Induction booklet, because it means that you are willing to enter the battle against the USMLE with more force than ever. Learn the basics to defeat your ultimate foe--the USMLE: Focus-Balance-Success.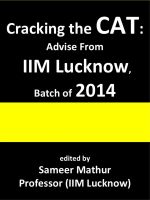 Cracking The CAT: Advise From IIM Lucknow, Batch of 2014
This guide has advise on how to prepare for the CAT exam, voluntarily contributed by the IIM Lucknow, PGP Batch of 2012-2014. Every one of these students actually prepared for and successfully navigated the CAT exam. They have "Been There, Done That"! You get distilled advise on how to prepare and how not to prepare for this tough exam right from the horse's mouth.