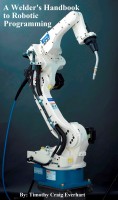 A Welder's Handbook to Robotic Programming
by

Timothy Everhart
If you are thinking about buying a robot, trying to learn how to program a robot, or teaching someone else to program and need a text book, then this book is definitely the one you are looking for. Welders that are learning how to program a robot will find everything that you need to get started programming an MIG welding robot. All of the secret tricks of the trade are here for the taking.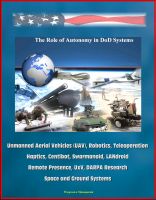 The Role of Autonomy in DOD Systems - Unmanned Aerial Vehicles (UAV), Robotics, Teleoperation, Haptics, Centibot, Swarmanoid, LANdroid, Remote Presence, UxV, DARPA Research, Space and Ground Systems
by

Progressive Management
The DSB Task Force on the Role of Autonomy in DoD Systems was asked to study relevant technologies, ongoing research, and the current autonomy-relevant plans of the Military Services.