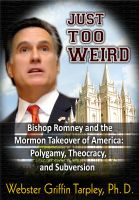 Just Too Weird: Bishop Romney's Mormon Takeover of America: Polygamy, Theocracy, Subversion
(5.00 from 2 reviews)
Mitt Romney's Mormon tradition is no real religion but a cult invented by a charlatan, a disguise for a subversive ideology opposing all that is best in the American tradition. The British recruited Mormon leaders into their 19th-century plot to break up the U.S., leading to the cult's strategic occupation of Utah territory. Mormonism has never abandoned its secrecy and its enmity to America.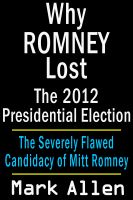 Why Romney Lost The 2012 Presidential Election
Read the national bestseller that examines the reasons why Mitt Romney's Presidential campaign was a severely flawed effort. Topics include Romney's gaffes, strange behavior, flip-flops and outright lies. A strong case is presented against the questionable tactics used by Romney and his top advisers. Find out why his 2012 Presidential campaign was doomed from the start.