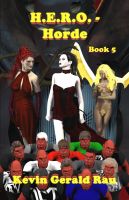 H.E.R.O. - Horde
When something changes humans into red-skinned orc-like creatures that assault the mutant Goth clubs in Metrocity, H.E.R.O. must find the cause to stop more murders from occurring. A super is murdered. He finds his mind transferred into a robot. He seeks revenge as more attacks occur. We continue the H.E.R.O. saga in the 5th installment in the series, with heroes returning from previous books.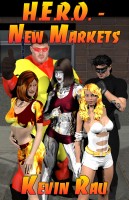 H.E.R.O. - New Markets
Psystar, Black Tiger and Spartan are back in the latest adventures in Metrocity. The heroes become caught up in the activities of a new slave ring. Heroes are captured, crimes occur and a fire is put out as the new heroes deal with the ongoing activities of the new slave ring. Additional heroes join the team as they take on the villains in a final attempt to save their friends.