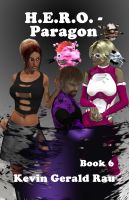 H.E.R.O. - Paragon
Borgz, still bitter from his death at the hands of the Hordemaker, breaks the villain out of prison along with others. This sets off a chain of events as Arissa takes over the minds of supers to enable her to see revenge. The Gahranii pirates attack, causing problems for some of the heroes, and a powerful 'builder' super plays a key role in preventing disaster. Paragon is the 6th H.E.R.O. novel.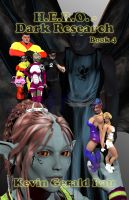 H.E.R.O. - Dark Research
An anti-research group causes an experiment to go awry, ending in a disaster for research firm Fargene. People and animals are mutated and run rampant, murdering people and later assaulting another research firm for supplies to stop the mutation. Aliens arrive near Metrocity, confusing the situation as two separate groups appear. The heroes of Metrocity must stop the mutants and alien pirates.