Sub-categories:
General | Love | Nature | Death | Places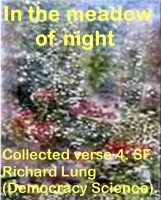 In The Meadow Of Night
by

Richard Lung
Mankind has reached for the stars from forever. Modern astronomy is still grounded in antiquity. The poetry of nature and folklore is joined by science fiction and fantasy. Humanity wonders at its own existence. The over-whelming grandeur of the heavens ever unfolds itself before us. Our transitory and insignificant nature is impressed upon us.