Sub-categories:
General | Love | Death | Nature | Places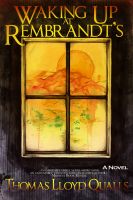 Waking Up At Rembrandt's
Maggie is a discouraged lawyer, Dillon, a heart-broken vagabond, and Phillip, a frustrated writer. Their stories are told by the mysterious Jillian, part purveyor of spirits and part spiritual guru. Inside the walls of cafe rembrandt, we fall under Jillian's spell as she artfully trails her Ariadne thread to lead her devotees back into the light.