Sub-categories:
General | Love | Nature | Death | Places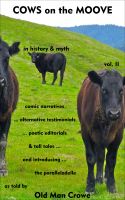 Cows on the Moove volume II
cows on the moove volume two introduces the paralleladelle, a new form of poetry that modifies and parallels the paradelle. It is is a collection of 65 comic narratives, poetic editorials, alternative testimonials and tall tales. this work is a progressive 7 year chronology of the authors development and mastery of the paradelle, thereby transforming a novelty into a literary art form.