God in the ICU
biography of a praying anesthesiologist facing his own personal trials yet seeing lives profoundly impacted in response to prayer as well as intensive medical care. dramatic case histories of patients in the intensive care unit combine with moving human stories of a compassionate doctor calling on a god who cares and responds to prayer to make an un-put-downable read.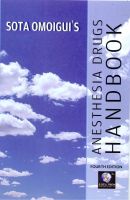 Sota Omoigui's Anesthesia Drugs Handbook - EBook 4th Edition
Designed for quick access to essential anesthesia drug information, the new 4th edition of Sota Omoigui's Anesthesia Drugs Handbook is packed with tables, descriptions and expanded dosing information covering a broad range of drugs and the various routes of administration commonly used in the practice of anesthesia and critical care.