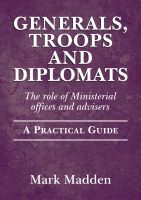 Generals, Troops and Diplomats
by

Mark Madden
Generals, Troops and Diplomats is a practical guide on the role of Ministerial offices and advisers in Australian politics. The author has many years of experience working in senior advisers roles at State and Federal level on the progressive side of politics.
20/20: A Clear Vision for America
by

Bill Muckler
(5.00 from 1 review)
The 20/20 Vision brings a critical background to the issues of today and provides reasoned resolutions to restore our republic and drive our country forward. 20/20 tells how a small, limited government is the best solution to make America prosper again. Read the book that thousands of Americans are using to roll out the revolution!