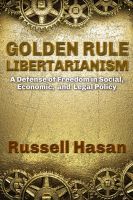 Golden Rule Libertarianism: A Defense of Freedom in Social, Economic, and Legal Policy
This book justifies libertarian politics using the Golden Rule of ethics to achieve a provocative new political theory called GOLD. GOLD defends the libertarian position on antiwar, drugs, prostitution, civil liberties, abortion rights, and gay marriage, GOLD explains why free market capitalism is necessary for freedom, and GOLD proves that capitalism helps the poor and racial minorities.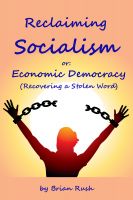 Reclaiming Socialism, or: Economic Democracy (Recovering a Stolen Word)
(5.00 from 2 reviews)
An attempt to reclaim the word "socialism" from those that have re-defined it and rendered it taboo. Socialism does NOT mean a state-run economy or the end of private property, let alone Soviet-style tyranny. Socialism DOES mean economic democracy, worker-owned business, an economy for the 99%, and a humane alternative to capitalism. Capitalism is broken and it's time to discuss replacing it.