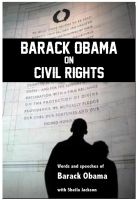 Obama on Civil Rights
(1.00 from 1 review)
This book contains fourteen important speeches from President Barack Obama on the topic of Civil Rights. Chapters include President's reflections on Martin Luther King, Jr, the thoughts he shared during the funeral for Dr. Dorothy Height, as well as the comments he made at the repeal of Don't Ask Don't Tell. This collection offers powerful insight into the man and character.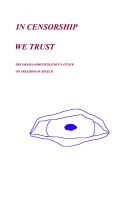 In Censorship We Trust: The Obama Administration's Attack on Freedom of Speech
(1.00 from 1 review)
The author was a federal civil servant who was fired solely because he expressed political views, while off-duty and not in the workplace, that liberals dislike. Firing him was illegal, but the federal courts don't have jurisdiction to enforce that particular civil service laws, and the Obama administration refuses to reinstate him and refuses to explain why it is refusing to do so.