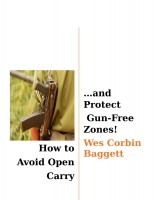 How to Avoid Open Carry...and Protect Gun-Free Zones
by

Wes Baggett
Your little boy just wants something to eat. You pass by a neighborhood sandwich shop. You go in, your boy in front of you, and get in line. Then you see the gun: an Assault Weapon carried by a man exercising his "rights". And it is legal. This book assists in living gun-free. And identifies the efforts by some to remove all gun-free zones.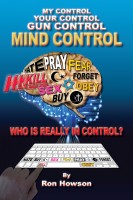 My Control, Your Control, Gun Control, Mind Control
by

Ron Howson
An invasion is occurring right before your eyes. But you are incapacitated and unable to act. Countries fall. Atrocities happen; the rapes, the dismemberment, the butchering of men, women, and children. We watch. How does this happen? It is Psychological Warfare. That is what happened. It is Psychological Warfare, and that is an Act of War being directed at the good people of the West.
Related Categories