20/20: A Clear Vision for America
The 20/20 Vision brings a critical background to the issues of today and provides reasoned resolutions to restore our republic and drive our country forward. 20/20 tells how a small, limited government is the best solution to make America prosper again. Read the book that thousands of Americans are using to roll out the revolution!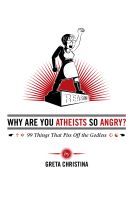 Why Are You Atheists So Angry? 99 Things That Piss Off the Godless
(4.75 from 4 reviews)
Why are atheists angry? Is it because they're selfish, joyless, lacking in meaning, and alienated from God? Or is it because they have legitimate reasons to be angry -- and are ready to do something about it? With outrage, humor, and intelligence, popular blogger Greta Christina makes a powerful case for outspoken atheist activism, and explains the empathy and justice that drive it.