The Illuminati
No secret society is more controversial than the Illuminati, yet almost nothing of the truth of this mysterious ancient Order is available in the public record. Propaganda, misinformation, disinformation, paranoia and downright fantasy are rife. Some have even described the Illuminati as pan-dimensional, shape-shifting Reptilians from another world!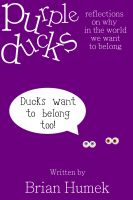 Purple Ducks
(5.00 from 1 review)
Ever felt like you didn't belong? It's a common feeling. But why in the world do we want to belong? Purple Ducks looks into where that need originates and tells some funny stories along the way. If you're a dedicated Christian, this book will leave you with mixed emotions. If you don't attend church, after this read, you may just find yourself wanting to join a congregation which meets in a pub.