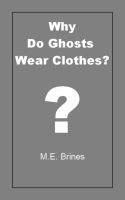 Why do Ghosts Wear Clothes?
(5.00 from 1 review)
After explaining the difference between magical thinking and the scientific method, the author employs the scientific method to shed light on the paranormal. Beginning with a concise history of spiritualism and séances, the author employs logic and careful experimental evidence to answer questions like: What is spiritualism? What are ghosts? And, of course, why do ghosts wear clothes?