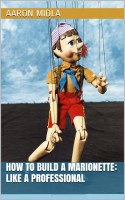 How to Build a Marionette Like a Profesional
by

Aaron Midla
I've been a professional Puppeteer for a while now and many puppeteers believe that they shouldn't share their methods with the world because of a lack of trust. But I believe this attitude is the wrong one to have. So with this book I give you the secrets that many Professionals haven't spoken of and don't really like to say out loud.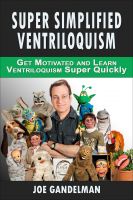 Super Simplified Ventriloquism
by

Joe Gandelman
Get motivated and learn ventriloquism quickly using Joe Gandelman's super simplified ventriloquism technique. Since 1990, Joe has taught thousands of people of all ages how to learn ventriloquism quickly. This includes employees of corporations and comedian Margaret Cho on her VH1 reality show (The Cho Show).