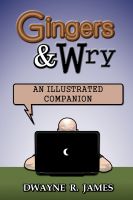 Gingers and Wry - An Illustrated Companion
by

Dwayne R. James
This is a collection of close to fifty image quotes and typographic posters illustrating passages that were either originally presented in, or have been newly inspired by, my book Gingers & Wry. The images gathered for this collection are funny, thoughtful, inspirational, and are perfect for sharing on social media. This book also includes a bonus chapter from Gingers & Wry.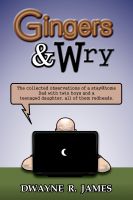 Gingers and Wry
by

Dwayne R. James
(5.00 from 4 reviews)
"TWINS. It's the kind of word that only ever happens to somebody else." This is the kind of dry humour that characterizes Gingers & Wry, an autobiographical account of a stay@home Dad of tenacious toddler twin boys. Join the author as he finds the humour in situations that would make the Dalai Lama scream out in anger. You'll never see the world the same once you've seen it through Dwayne's eyes.