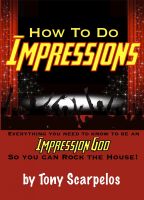 How To Do Impressions: Everything You Need To Know to Be An Impression God So You Can Rock The House!
(5.00 from 1 review)
Whether your goal is to entertain thousands, spoof your co-workers, or tell entertaining stories at happy hour, YOU can learn the Art of Duplication and do great Impressions. These easy-to-follow instructions, unique insights and industry secrets from professionally trained actor, voice artist and popular impressionist Tony Scarpelos are sure to unleash your inner performer!