More Than Two: A Practical Guide to Ethical Polyamory
by

Franklin Veaux

&

Eve Rickert
A long-awaited, wide-ranging resource exploring the often-complex world of living polyamorously. Highlighting the nuances, the relationship options, the myths and the expectations, the authors share not only their hard-won philosophies about polyamory, but also their hurts and embarrassments, while gently guiding readers through the thorny issues of jealousy and insecurity.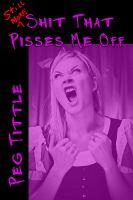 Still More Shit that Pisses Me Off
by

Peg Tittle
Pregnant men, paying stay-at-home moms, advertising, income tax deductions, people skills, boy books, speech codes, porn, god, testicular battery and tranquilizer guns, the Academy Awards, intelligent design and evolution… Philosophy with an attitude. Because the unexamined life is dangerous.