More Than Two: A Practical Guide to Ethical Polyamory
by

Franklin Veaux

&

Eve Rickert
A long-awaited, wide-ranging resource exploring the often-complex world of living polyamorously. Highlighting the nuances, the relationship options, the myths and the expectations, the authors share not only their hard-won philosophies about polyamory, but also their hurts and embarrassments, while gently guiding readers through the thorny issues of jealousy and insecurity.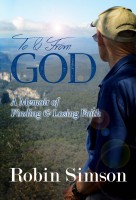 To and From God: A Memoir of Finding and Losing Faith
by

Robin Simson
To and From God is one man's spiritual journey from "Churchie" Anglican schoolboy to agnostic environmental activist. In this refreshingly honest spiritual memoir, geography teacher and orienteering enthusiast Robin Simson explores philosophy, scientific thought, theology, and environmental principles and pits his long-held Christain ideals against secular humanism, Gaia theory, and ethics.