More Than Two: A Practical Guide to Ethical Polyamory
A long-awaited, wide-ranging resource exploring the often-complex world of living polyamorously. Highlighting the nuances, the relationship options, the myths and the expectations, the authors share not only their hard-won philosophies about polyamory, but also their hurts and embarrassments, while gently guiding readers through the thorny issues of jealousy and insecurity.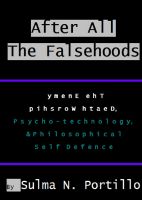 After All The Falsehoods
A lucid, rational perspective on spiritual and psychological warfare used in online psychological operations. This insightful work of non-fiction exposes the most horrific and hidden conspiracy in the universe about spiritual tyranny and mental injustice. Contains warnings and advice for how to defend the capacity for philosophical wisdom in an age of death worship psycho-technology.