Sub-categories:
South Atlantic (DC, DE, FL, GA, MD, NC, SC, VA, & WV) | East South Central (AL, KY, MS, & TN) | West South Central (AR, LA, OK, & TX) | General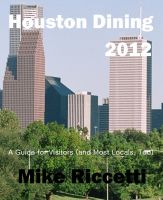 Houston Dining Index - A Guide for Visitors (and Most Locals, Too)
Houston Dining Index is a different and more useful type of guide. It is organized as series of over 60 categories designed for the business traveler, newcomer, and those not terribly familiar with the city proper. A few of the categories are: bistros, Italian restaurants, Italian-American restaurants, steakhouses, beer bars, places within a short walk of the MetroRail stops, and much more.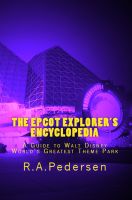 The Epcot Explorer's Encyclopedia: A Guide to Walt Disney World's Greatest Theme Park
This newly revised edition provides tell-all look into the most magnificent theme park in existence. From the minutiae of Future World to the farthest reaches of World Showcase this guide covers it all. With a bit of wit and a whole lot of heart you'll be led through the splendorific sprawl of the most endearing monument to humanity that has ever been created at the Walt Disney World resort.