The Hidden Truth
THE HIDDEN TRUTH: Clairvoyant/Psychic predictions for:The president of Russia-Vladimir Putin,Leonardo da Vinci,The Black Stone from Mecca,Jesus Christ,Alien Autopsy,Terrorists,World Predictions about USA,UKRAIN,RUSSIA,IRAN,INDIA,BULGARIA and more...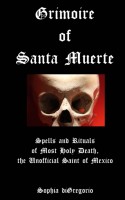 Grimoire of Santa Muerte: Spells and Rituals of Most Holy Death, the Unofficial Saint of Mexico
The Grimoire of Santa Muerte is an introductory manual for devotees of Most Holy Death, the powerful folk saint of Mexico who has drawn the wrath of both the church and state. Santa Muerte has millions of devotees and the numbers are growing all over the world! To those devoted to her, she is their friend, a spiritual mother and the source of unconditional love and protection...