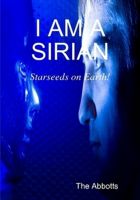 I am a Sirian - Starseeds on Earth!
by

The Abbotts
Are you a Sirian? Or want to know more about Sirians & their Off-Planet Lives? Then this ebook is for you! The Abbotts, paranormal specialists explain why over 1 billion Sirians have incarnated to Earth at this time! Read about life on the Sirian Home world & the enlightened Beings that live there. Learn about the Sirians who incarnated to Egypt, South America & Asia & built these ancient empires.
Communicating with Orcas: The Whales' Perspective
by

Mary J Getten
Communicating with Orcas is the true story of an amazing journey into the unknown world of whales. It unlocks many mysteries of orca life and death. It is a moving description of a close family group in which all members travel, eat, play, and even sleep together. It takes you inside their world, allowing you to see things from their perspective and to understand their way of life---the orca way.