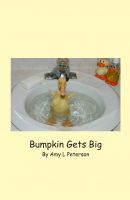 Bumpkin Gets Big
(5.00 from 1 review)
A cute, rhyming photo book, Bumpkin Gets Big is about a domestic duckling a student found in a yard in East Lansing, Michigan. The author and her husband had taken in other critters but never a duckling. They raised Bumpkin inside their home with a cat and two dogs. This book ends with a message to parents to consider before buying a domestic duckling.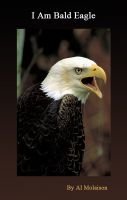 I Am Bald Eagle
(5.00 from 1 review)
bald eagle lives only in north america. it was almost lost to the country. it was hunted. pesticides killed its eggs. chemicals coming into the water poisoned the fish it ate. the hunting's stopped. the pesticides are banned. the chemicals are controlled. the bald eagle recovered.