Girls Succeed: Stories Behind the Careers of Successful Women
by

J.Q. Rose
(5.00 from 3 reviews)
An interactive e-book filled with dreams and passion to inspire, entertain, and empower girls. Fifteen remarkable career women in a variety of occupations share their stories about their work and the path they took to become successful in their careers. A separate Reader's Guide for Girls Succeed is available to help develop units for teachers and homeschoolers.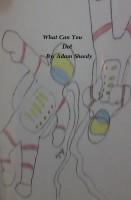 What Can You Do?
by

Adam Sheedy
(5.00 from 1 review)
"What Can You Do?" is a group of poems about jobs. It was written to give children something to aspire to. It is not an all inclusive list of every job on Earth, but there are other volumes in the works. Written for children ages 5-11, it should give families something to talk about, as well as giving children a reason to do well in school. Illustrated with pictures of men and women working.